CNX Software – Embedded Systems News
Reviews, tutorials and the latest news about embedded systems, IoT, open-source hardware, SBC's, microcontrollers, processors, and more
MeLE PCG02 Pro is a mini PC stick / PC-on-a-stick powered by either an Intel Celeron J4125 Gemini Lake processor or a more recent Celeron N5105 Jasper Lake processor, with support for M.2 NVMe/SSD storage, but only for the Gemini Lake model.
The computer is also equipped with 8GB LPDDR4 memory, 128GB to 512GB eMMC flash, two HDMI 2.0 ports capable of driving two independent displays, a Gigabit Ethernet port, WiFi 5 or 6 connectivity, and more.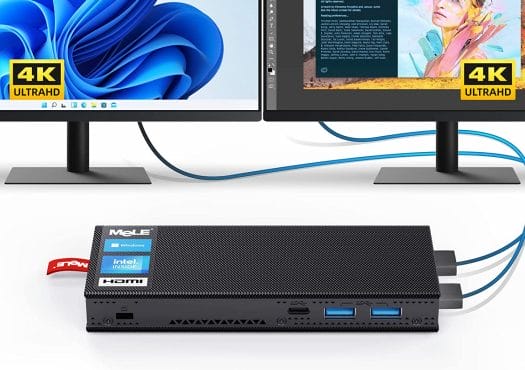 MeLE PCG02 Pro specifications: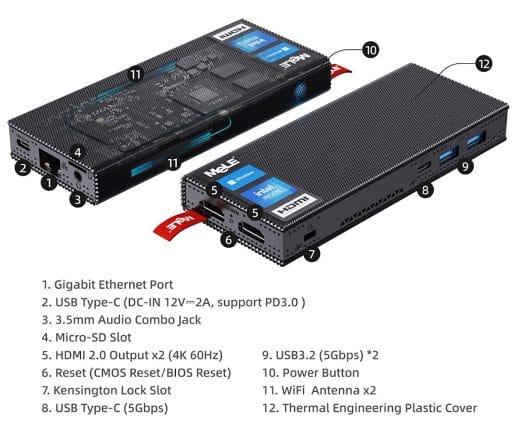 Both mini PC ships with Windows 11 Pro, but MeLE says it also supports Linux distributions such as Ubuntu and Debian. The CPU performance of the Celeron N5105 is 32% higher than the Celeron J4125, and graphics should be significantly faster with twice the number of execution units and a higher GPU operating frequency.
It's quite odd that the Jasper Lake model does not support the SSD because the processor can certainly handle this. So I can only think that the CPU is either too big or thick, or there were extra heat dissipation issues despite both the J4125 and N5105 both having a 10W TDP, and the cooling solution takes more space for the Celeron N5105 CPU.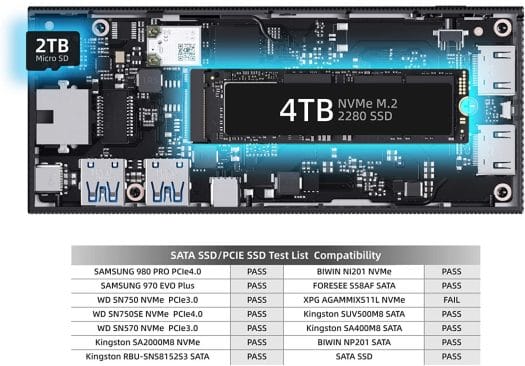 MeLE tested the PCG02 Pro (J4125) with several SATA and NVMe SSD models from Samsung, Western Digital, Kingston, and others, and most worked except the XPG AGMMIXS11L NVMe SSD that I never heard of but looks popular on Amazon.
MeLE initially launched the MeLE PCG02 PC stick with an Ethernet port in 2015, at a time when most Arm or Intel HDMI/PC sticks were only offered with WiFi and/or Bluetooth connectivity, so it was kind of unique at the time. The company kept on launching new models over the years following new Intel processors with Apollo Lake and Gemini Lake variants and some changes to the form factor. They also tried their luck with the MeLE PCG02U, an orange stick pre-loaded with Ubuntu, but the demand for Linux PC sticks was not high enough, so it was only a short experiment. MeLE PCG02 Pro is just the latest member of the family and the first without an HDMI male port, so I'm not sure we should still call it a stick anymore… You can still mount it to the back of your TV or monitor with the included VESA mount and short HDMI cable.
MeLE PCG02 Pro (J4125) is sold on Amazon for $199.99 and up with a $30 coupon, 8GB RAM, and 128GB eMMC flash, while the PCG02 Pro (N5105) starts at $219.99 in the same configuration.
Via Liliputing
Jean-Luc started CNX Software in 2010 as a part-time endeavor, before quitting his job as a software engineering manager, and starting to write daily news, and reviews full time later in 2011.
Support CNX Software! Donate via cryptocurrencies or become a Patron on Patreon
Related posts:
@Upgrade pi-top [3]
Is this a stick PC? 😂
A giant stick PC. 😀
Haha I suppose technically yes but just not a TV stick? (I'm assuming to be called the latter it would need the male HDMI port 😂 )
Their machines are great, but they still have this shitty 12V-only PSU over USB-C that's waiting for someone to plug the connector into an innocent machine to turn it into fumes. We have two of the 5105 ones here and I had to put some "warning 12V" stickers on the cables due to this, and am still not confident this will not eventually happen 🙁
That's a shame because they claim to support USB PD 3.0 support in this model, so they could have included a proper USB power supply, instead of the 12V one.
If the claim is true, one (suboptimal) solution is to throw away the 12V PSU and switch to a USB-C one.
Well, if this specific model now supports USB-PD, maybe they just copy-pasted the specs from the previous ones but provided a USB-PD PSU. Or maybe they continue to ship the same PSUs. I didn't measure the voltage out of our PSU, but it's clearly written "12V" on both the adapter and the PC so I don't count too much on something different. I will eventually do.
> I didn't measure the voltage out of our PSU
Your Rock 5B could tell 😉
(and those 12V-USB-C power bricks could be a good choice to power SBC like Rock 5B anyway)
That's a good point but I really don't like having 12V-only power bricks lying around with a connector that can be mistaken for a real USB-C one. I also have my USB power meter that supports up to 24 or so volts and which could tell me without taking risks on a board 😉