The iOS 16.1 update that was released today introduces support for Live Activities, a new type of lingering Lock Screen notification that lets you track information in real time. Live Activities are visible primarily on the Lock Screen, but if you have an iPhone 14 Pro or Pro Max, they also show up in the Dynamic Island.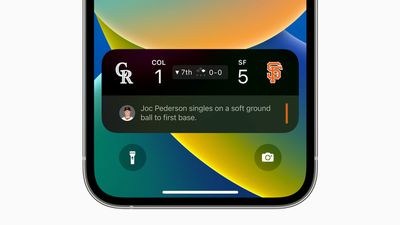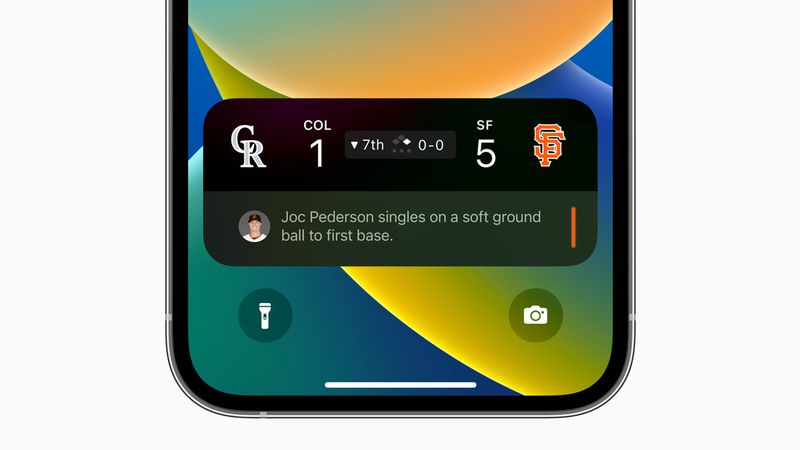 Developers are beginning to implement support for Live Activities, and we've rounded up apps that are using the new feature.
Skiing and snowboarding app Slopes is using Live Activities to let users track two customizable stats, along with information about who else is riding at the resort. It also provides a daily timeline of performance. Users can choose stats that include vertical distance, speed, number of runs, time spent on the slope, and more.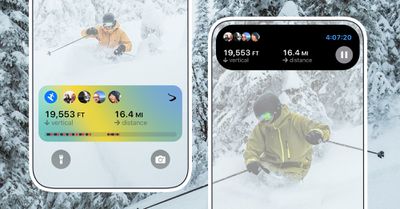 ‌Dynamic Island‌ support is included for ‌iPhone 14 Pro‌ users, offering quick access to tools like pause and resume when taking a break.
Flight tracking app Flighty offers Live Activities for keeping an eye on upcoming and in progress flights. The Live Activity implementation shows on the Lock Screen three hours before a flight, offering up necessary information like time until departure, gate, flight status, booking code, seat number, and more.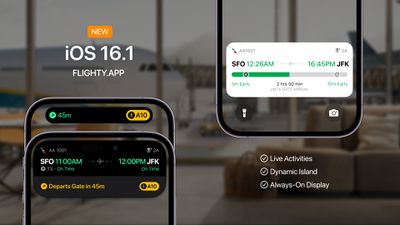 After takeoff, the app includes an offline progress bar that lets you know how much time is left on a flight. On ‌iPhone 14 Pro‌ models, ‌Dynamic Island‌ integration provides flight information at the top of the iPhone whenever there is a critical update like a delay. The ‌Dynamic Island‌ Live Activity also displays departure countdown and gate number while other apps are in use.
The Live Activity can be used for free on the first flight, but after that, Pro is required. Flighty Pro is priced at $5.99 per month or $49.99 per year.
Mountaineering app Landscape is using Live Activities on the Lock Screen and ‌Dynamic Island‌ to provide real time stats, with a rolling elevation graph so you can keep an eye on your climb. The app shows elevation, total distance, and more.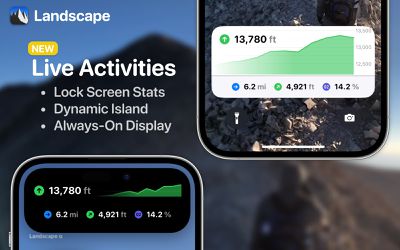 Time management and focus app Forest shows countdown times on the Lock Screen and in the ‌Dynamic Island‌ so you can see how long you have left on the project that you're working on. Forest is an app where you grow a tree by focusing on a singular task such as studying without otherwise using your device.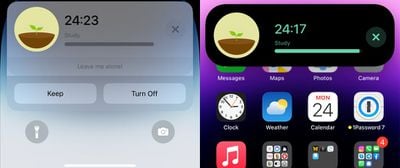 Using the Live Activity option requires deep focus mode to be disabled, which is the mode that requires the Forest app to stay open, preventing the use of other apps.
CARROT Weather will show an approaching storm when rain is expected within the next hour. Storm progress can be tracked on the Lock Screen or the ‌Dynamic Island‌. You will be able to see upcoming precipitation levels over the next 60 minutes.
CARROT Weather v5.8.3 is here, meatbags – which means I can now invade your Lock Screens and Dynamic Islands with my new "Rain Starting Soon" Live Activity! https://t.co/cfh5hKHfz3 pic.twitter.com/fqOiCV9Hzn — CARROT (@CARROT_app) October 24, 2022
Designed for photographers and those who like to track the sun, Lumy is an app that lets you know the position of the sun in any location around the world. It offers up information on sunrise, sunset, first light, last light, golden hour, blue hour, moonrise, moonset and more.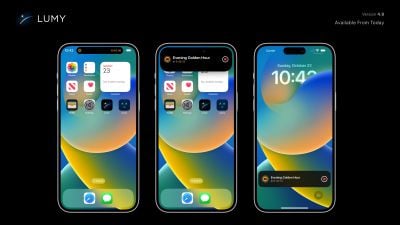 With Live Activities and ‌Dynamic Island‌ integration, Lumy users can keep track of any sun event.
Meal planning and recipe app Crouton uses Live Activities and the ‌Dynamic Island‌ to display recipe timers and steps for each recipe so users can follow along with each step without having to open up the app.
Fresh Update: Live Activities ⚡️ Keep track of your recipe timers and steps straight from the Dynamic Island and Lock Screen! https://t.co/gBF8LI7zpb pic.twitter.com/157kIoiVh0 — Crouton (@_CroutonApp) October 24, 2022
Pestle's Live Activity lets you keep an eye on timers when using other apps, plus it shows current recipe steps. It also supports two timers at one time for different dishes being cooked simultaneously.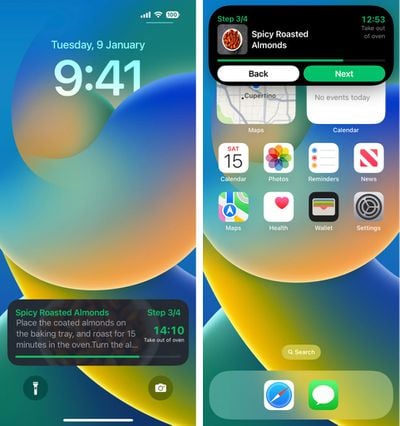 The Liftin' Live Activity allows users to keep track of a workout from the Lock Screen or ‌Dynamic Island‌, with rep counts, rest timers, and more.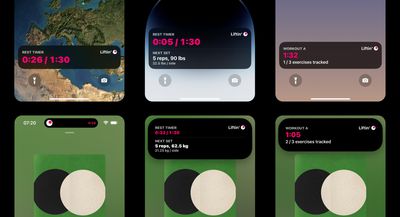 Reddit app Apollo uses Live Activities to let users follow along with comments on Reddit threads. Reddit users can go to a specific Reddit thread and then choose the "Start Live Activity" option. Apollo will then monitor the thread and show live, recent comments as they come in on the Lock Screen or in the ‌Dynamic Island‌.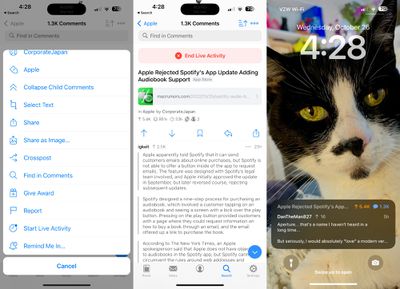 Twitter app Aviary uses the Live Activity feature to allow you to undo a tweet from the Lock Screen or the ‌Dynamic Island‌. Tweets can be undone for up to 30 minutes after being sent.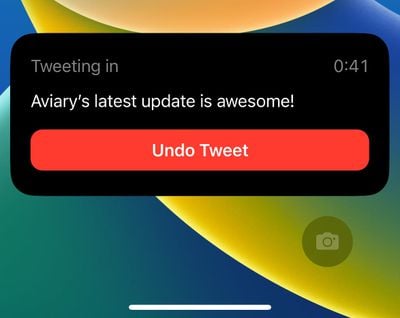 Activity tracking app Steps uses Live Activities to allow users to see their workout progress from the Lock Screen and the Dynamic island.
Steps now supports the Dynamic Island and Live Activities! We've added live progress while recording a workout — it's great for checking in quickly while walking. pic.twitter.com/qGLHn0Cvt1 — Steps – Activity Tracker (@StepsApp) October 23, 2022
Steps now supports the Dynamic Island and Live Activities! We've added live progress while recording a workout — it's great for checking in quickly while walking. pic.twitter.com/qGLHn0Cvt1 — Steps – Activity Tracker (@StepsApp) October 23, 2022
To use Live Activities, an ‌iPhone‌ running iOS 16.1 is required. The ‌Dynamic Island‌ component requires an ‌iPhone 14 Pro‌ or ‌iPhone 14 Pro‌ Max.

50 features and changes you might have missed in macOS Ventura.
Apple on October 24 released iOS 16.1, delivering iCloud Shared Photo Library, Live Activities, Matter smart home support, and more.
Discover more things your Apple Watch can do since the latest software update.
How big of an upgrade are Apple's cheapest mainstream flagship phones?
Expect great deals on a variety of Apple products and third-party accessories as the holiday shopping season kicks into high gear.
New 14″ and 16″ models with M2 Pro and M2 Max chip options as the most significant changes.
New high-end model will move from Intel to Apple silicon.
Apple's most powerful Mac will finally shift to Apple silicon.
 
MacRumors attracts a broad audience of both consumers and professionals interested in the latest technologies and products. We also boast an active community focused on purchasing decisions and technical aspects of the iPhone, iPod, iPad, and Mac platforms.