CNX Software – Embedded Systems News
Reviews, tutorials and the latest news about embedded systems, IoT, open-source hardware, SBC's, microcontrollers, processors, and more
Radxa E25 is a modular router with two 2.5GbE ports based on the Radxa CM3 Industrial (CM3I) system-on-module equipped with a Rockchip RK3568 quad-core Cortex-A55 processor, and optional support for WiFi 6 and 4G or 5G cellular connectivity.
I got an early sample of the Radxa E25 carrier board in January, but the company has now refined the design with version 1.4 of the board and will launch the Radxa E25 as a complete router with an enclosure similar to NanoPi R5S and LinkStar H68K we've covered previously.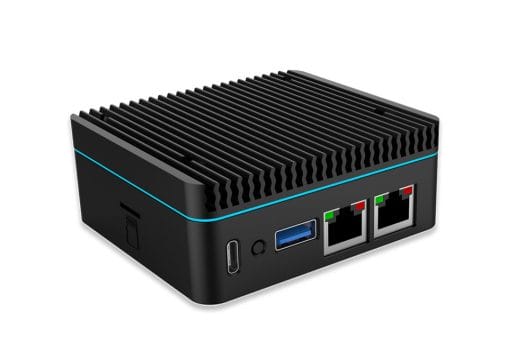 Radxa E25 specifications: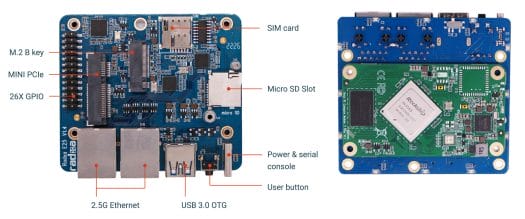 The M.2 socket has been tested with Lenovo M.2 2242 SATA SSD and Quectel EM05 4G LTE module, while the mini PCIe socket has been confirmed to work with DR900VX WiFi access point module, Quectel EC25 4G LTE module, and Quectel RG200 5G module. Radxa will provide Debian and Ubuntu server images, as well as a hardware access/control library for Linux that you eventually become available in the wiki.
Radxa could not give us availability information, but they did provide pricing for three variants of the router with case and heatsink:
The Radxa E25 modular 2.5GbE router will be sold on Allnet and Ameridroid, but we just don't know when just yet although we were told long term supply will be guaranteed until September 2029. [Update: the router is already available on Allnet China]
Jean-Luc started CNX Software in 2010 as a part-time endeavor, before quitting his job as a software engineering manager, and starting to write daily news, and reviews full time later in 2011.
Support CNX Software! Donate via cryptocurrencies or become a Patron on Patreon
Related posts:
It seems to be for sale on the allnet shop already.
Really cheap, and nice specs and case included. If I didnt already have the Rock 5b, I would have gone for this model.
> sold on Allnet and Ameridroid
Does mentioning of Allnet means only self-importing via https://shop.allnetchina.cn or also full EU distribution by Allnet?
@willy – I found a workaround for you usb console needs for these kind of devices https://uk.farnell.com/ftdi/usb-nmc-2-5m/cable-usb-usb-nmc-ft232r/dp/2419947?ost=2419947 should expose a serial interface on linux
Hey that's amusing because I've been playing with exactly the same approach this week-end using two CH340 back-to-back, and have been seeking how to improve the process so that the baud rate would be irrelevant. What I'd like to do is not to have to guess the baud rate. In the end I could not find a reasonable microcontroller with two USB device ports, but thought that maybe chaining to V-USB stacks back-to-back with a synchronous protocol could be used to make this better. One problem with V-USB is that it presents as CDC-ACM and not as tty, and that… Read more »
Does Radxa have a history of ensuring their devices work with mainline Linux?
I'm seeing this in 6.0.0, which I would say is a reasonably good indicator. They're of course limited by the effort SoC vendors are willing to make, like all other vendors. But some such vendors are serious.
Will it be supported by OpenWRT? Could make a nice cheap but capable router!